On Sunday, Joey's parents, along with his maternal aunt and uncle came up and the six of us made a short trip to Nashville. We had decided on making this trip to celebrate my birthday and Tom's, since they were only a week apart. It was a nice day overall, despite my usual dislike of that area (I really like his parents' company — it's worth tolerating just for that). After we parked in the only free parking lot in the town and walked the four or five blocks into the main street, I looked up and noticed this sign: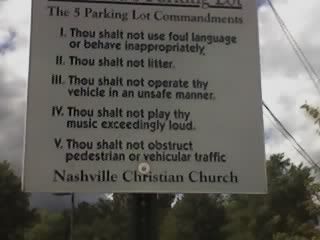 Not normally something I would take seriously, but Indiana is nearly at the apex of the Bible Belt, and this particular corner of the state wasn't really known for its progressive thinking. Still — humorous to me none the less.
We made it to the restaurant we were eating lunch at: a quaint place called The Hobnob. We stuffed our faces, Tom opened his gift from Joey and me, and then we went out to shop. That is the only reason to come to Nashville after all.
We pass one of Patty's favorite shops, which sells a variety of decorations for your yard and home. On display in the grass in front of the building was this sign:
Click to enlarge:
It's fall y'all? "Surely no one in their right mind would fork over their money for that piece of stupidity," I thought to myself.
I was wrong. Later, I saw a woman walking past us on the sidewalk with one of those signs in her hand, cooing over it, giggling, and showing it to her traveling companion.
Like I said, not the most progressively-thinking community.